Fly UX (case study)
This is my project for international Diploma in UX Design for my school UX Design Institute
There are certainly many ways to do UX Design. With the help of the tools I received from UX Design Intititute,
I know that this is right (All rights reserved © Pelle Danielsson)
CONTEXT
Your client is a start-up airline called Fly UX. They're looking to create an online experience that is fast, easy, and intuitive:
one that's based on a deep understanding of their target users.
MISSION
Your task is to design a new website for Fly UX. You'll focus specifically on the flight booking process:
how users search for, find and select flights online.

To do this you'll go through the full UX process:

---
#01:RESEARCH
My research started with a Competitive benchmark comparison. The companies was KLM, Virgin Atlantic Airways, SWISS Air and Thai Airways. These are the top-10 airlines in the world. But from this I learned a lot about the differencies. Actually all of them had Issues. This Project is downloadable here.

After this I had a On-line Airline flight booking survey. Pretty simple with 7 question. Linked here.

Then there was the set-up for Usability Test! I used my friend Knut Fahlén in this project. Mainly for two resons. Knut speaks good English and have done on-line booking several times. The test takes at least an hour.

I have tasks he should do. I do record this. I se every move he makes with cursor and hear what he thinking at the same time. He has to do the same task at two airlines. This is powerful and leads me into an Affinity Diagram for Analysis!
---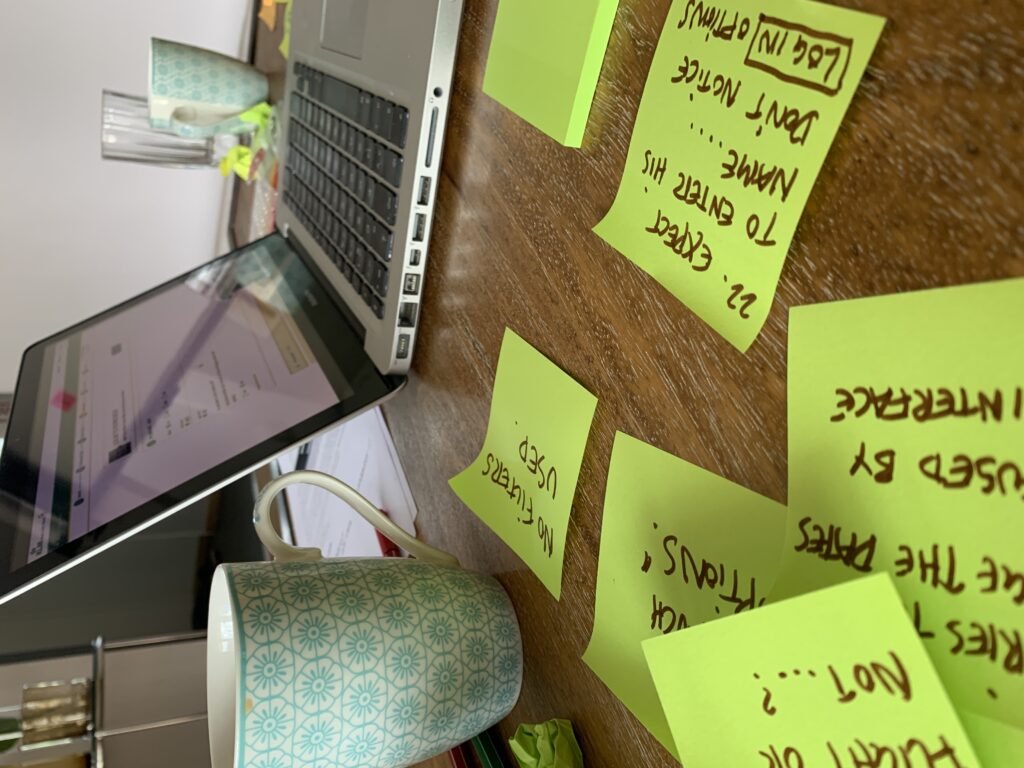 #02:ANALYSIS
I will follow Knut´s entire booking process from start to finish. He has to go through Planning, Choosing and Extras to reach his goal .. I divide it into Likes, No likes, Suggestions, Stress, System Errors, Mental Model and Context.
This is time consuming work.
It will lead me to an Customer Journey Map. In this I can se the Goals, Behaviors and Pain Pionts.

Again time consuming work at the Whiteboard
---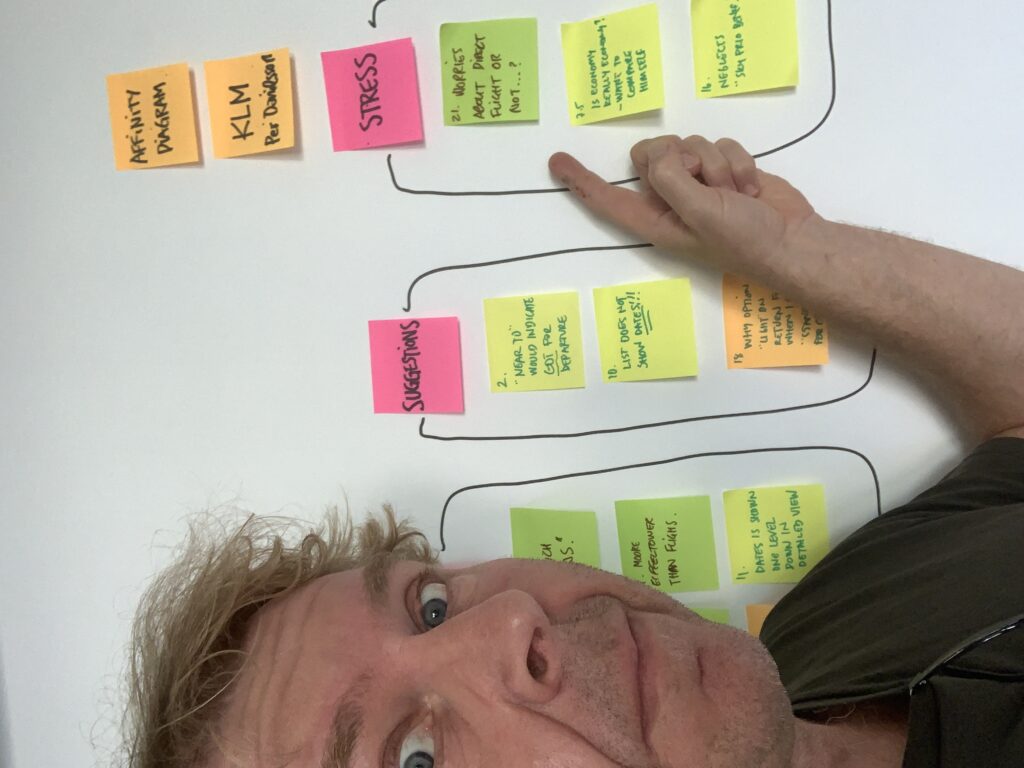 #03:THE WHITEBOARD
Okey, now you can see stuff. He really got three "Stress" notes from me.
And six System Errors! Four likes and so on.

The Whiteboard is what I call the Big picture. In this project it is good to have several people involved.
---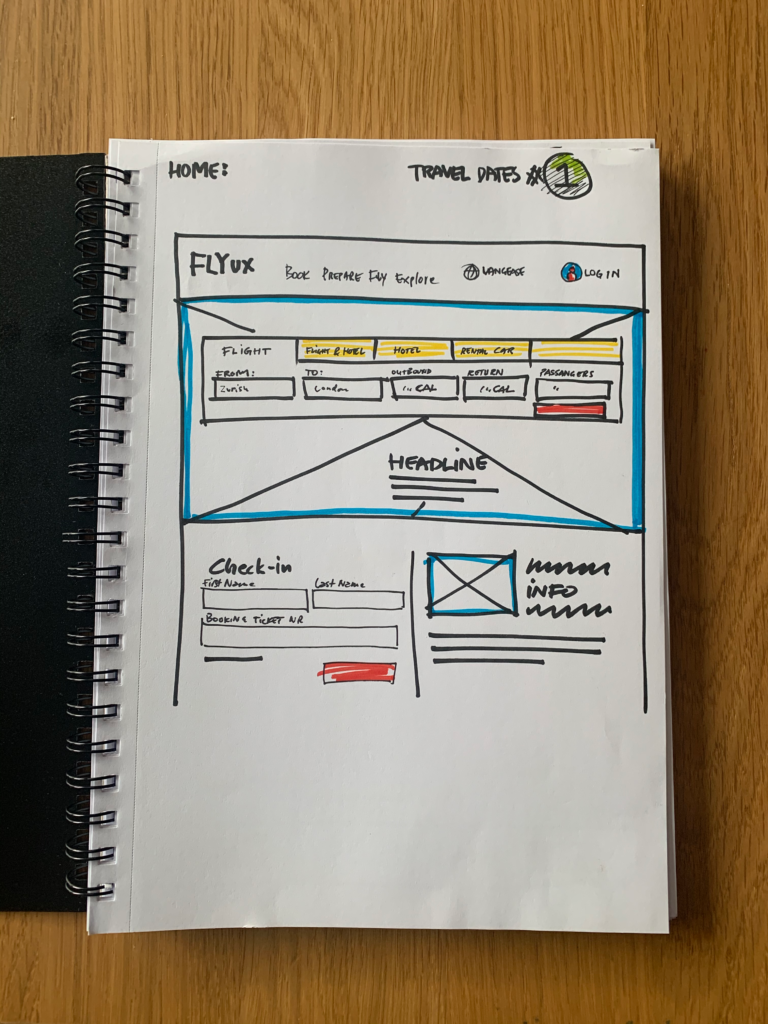 #04:DESIGN
Okey, okey. So how should the website be to be perfect? What can I do? I start with simple sketches.
They are about to be translated later. I ám strong here. It will end up in a Prototype and a Wireframes
---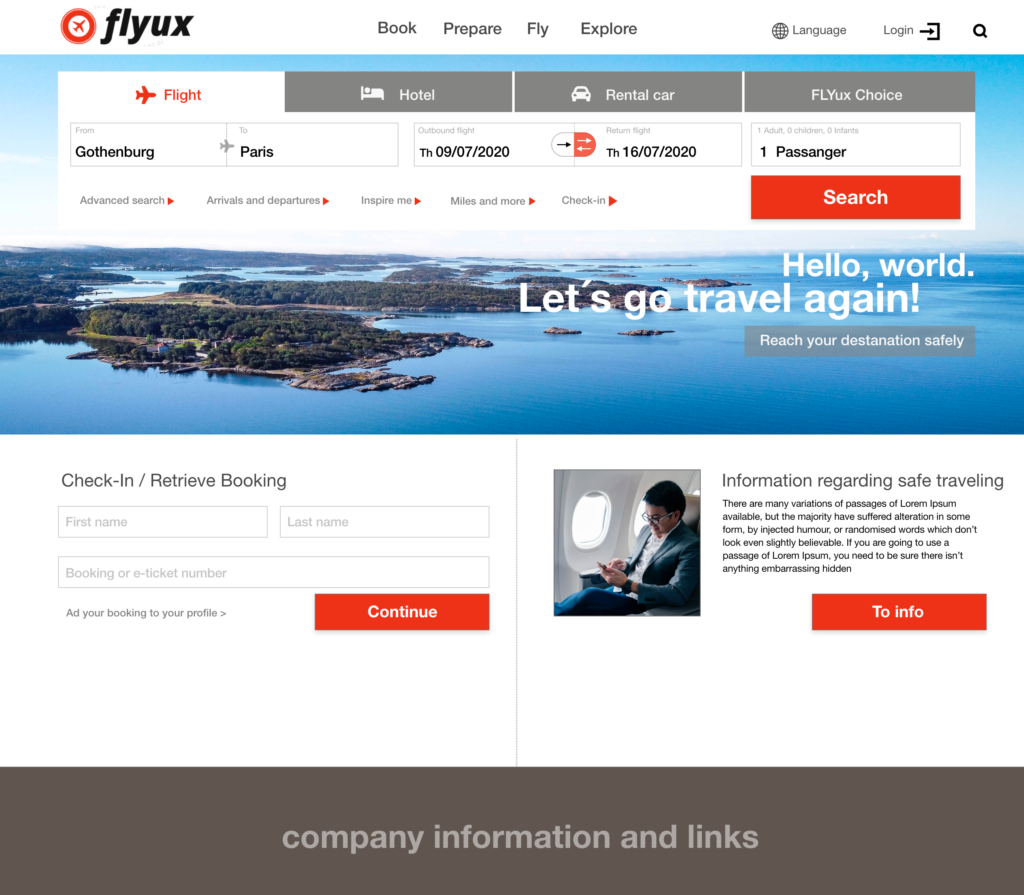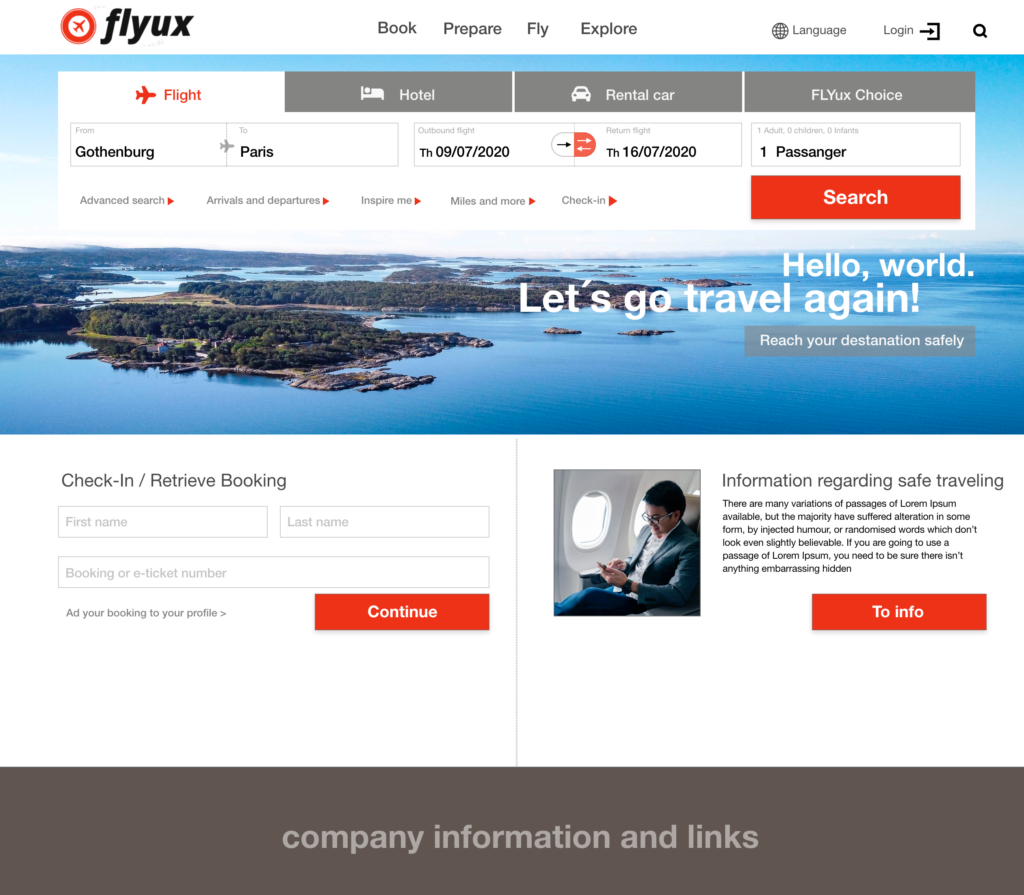 #05:PROTOTYPE
For this I use Adobe XD and I have been Certified on this Application by Adobe and LinkedIn Learning. It is Interactive. It is on-line here. Not all buttons works.
But you can walk through all 7 screen states
---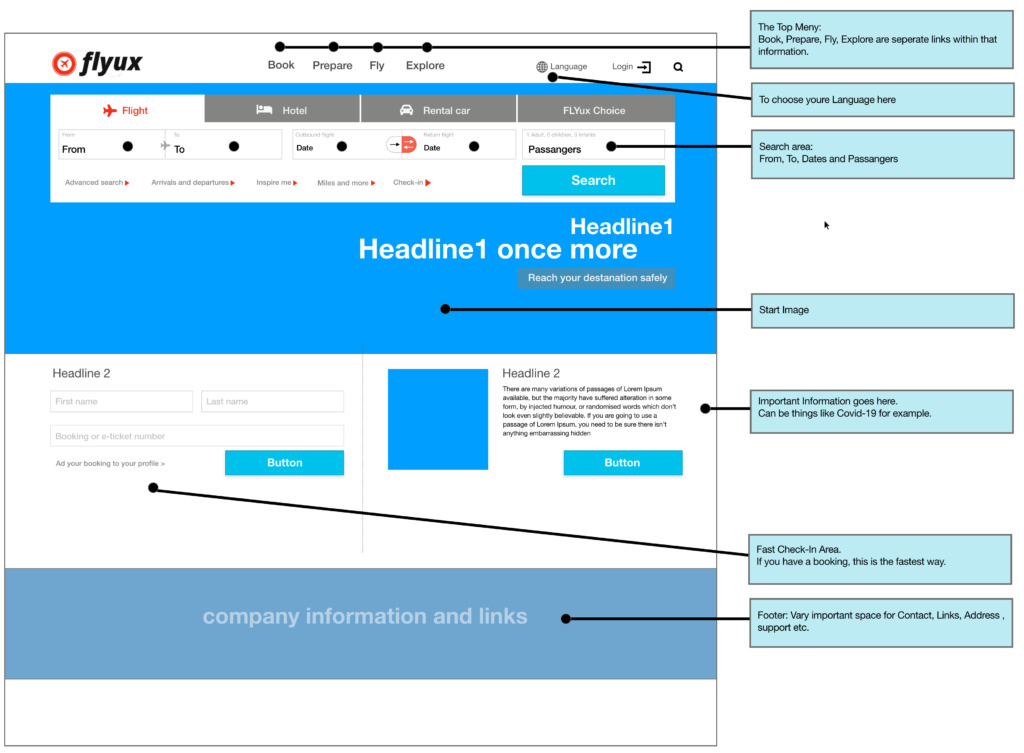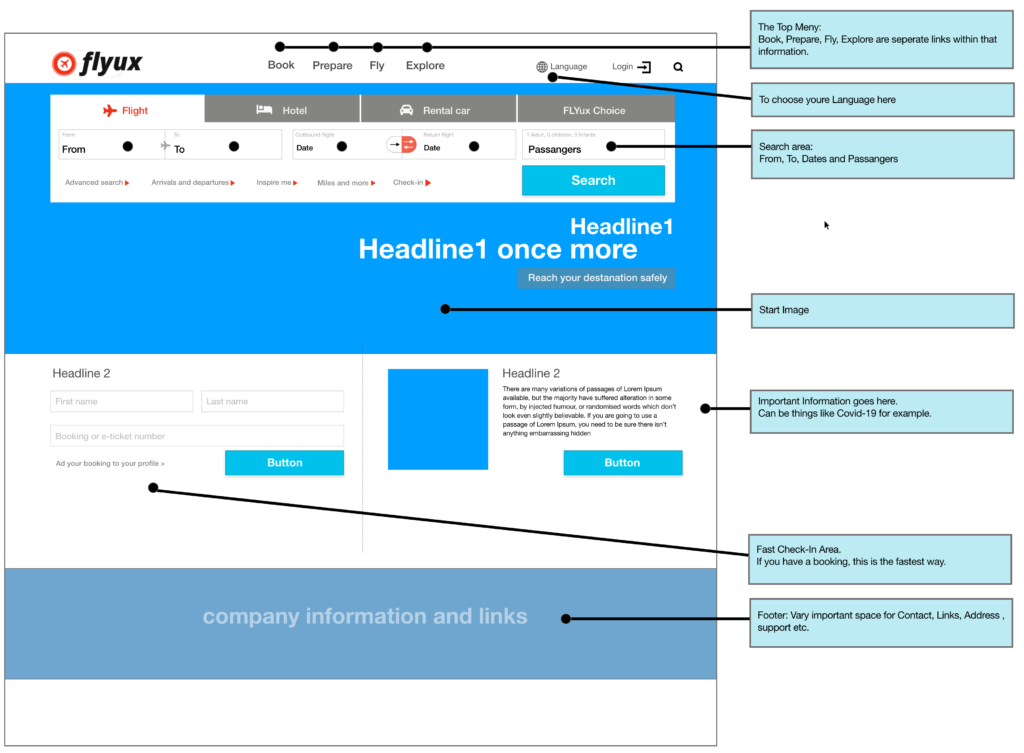 #06:WIREFRAME
The Wireframes serves as the Blueprints for your development of the user interface. And off-course they are the Specifications of the construction.
I deliver the Wireframes here. These are fine annotations with the Flow what should happen when you come to an screen state. And moove onto the next.
---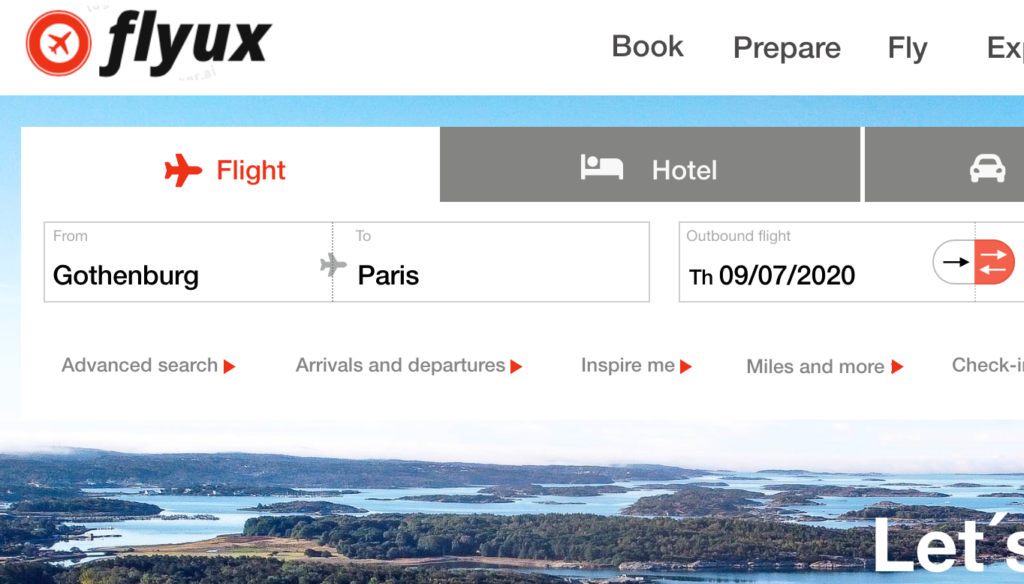 Testing
If I had this project for real this is the right times to do programming and real tests.
However this for my school and without any connection to a database or real website there was no testing at all.
---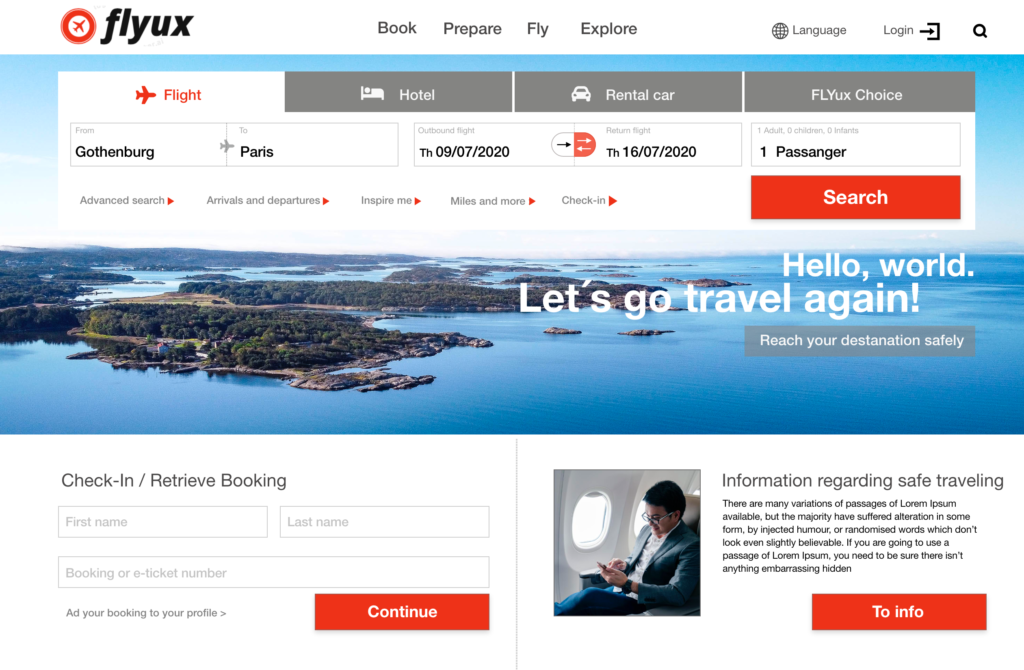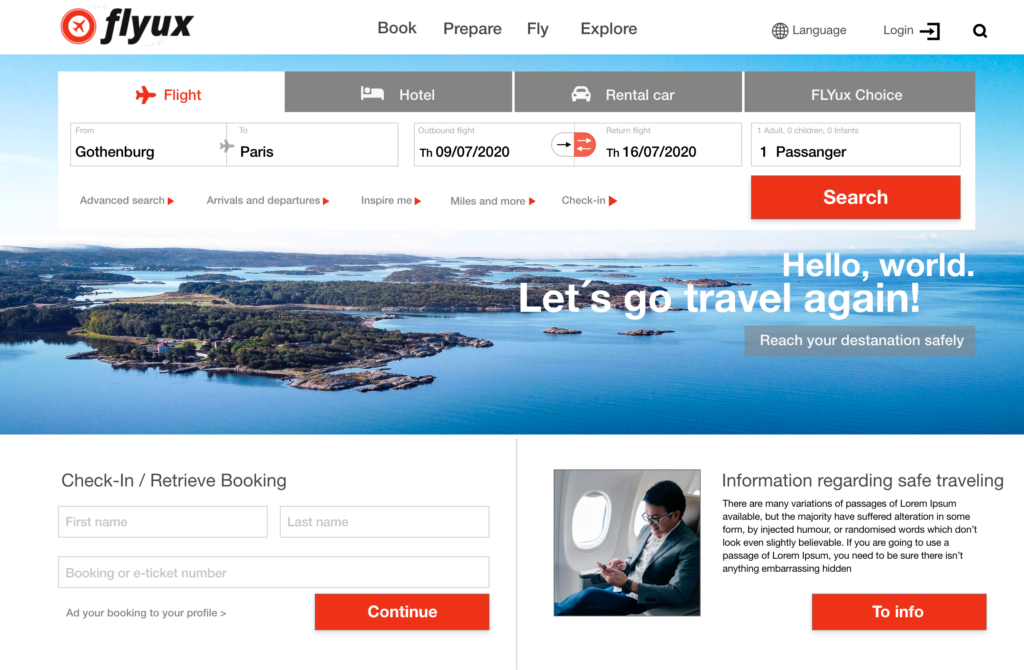 ---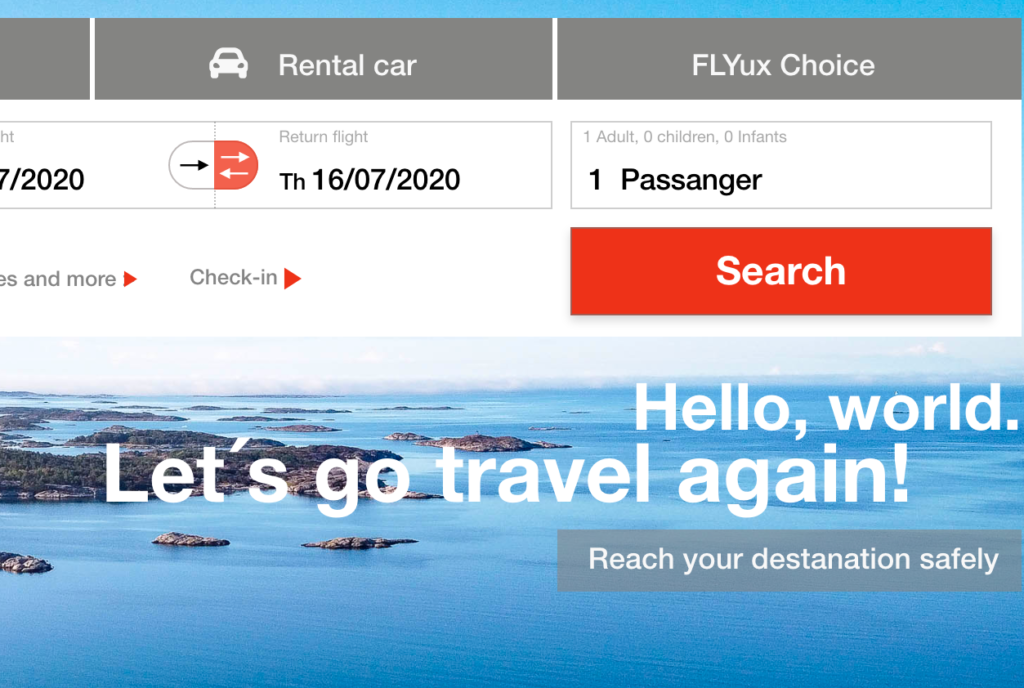 Outcomes
I think I found a much straighter path to the goal than most other airlines.
It is more pure and yet its full graphic power.
The idea is that it should be easy to flow through.
The artwork that I maid in for UI (User Interface) is right in size and can all be delivered to programmers fit into their work. Everything is there, fonts, colors etc.
---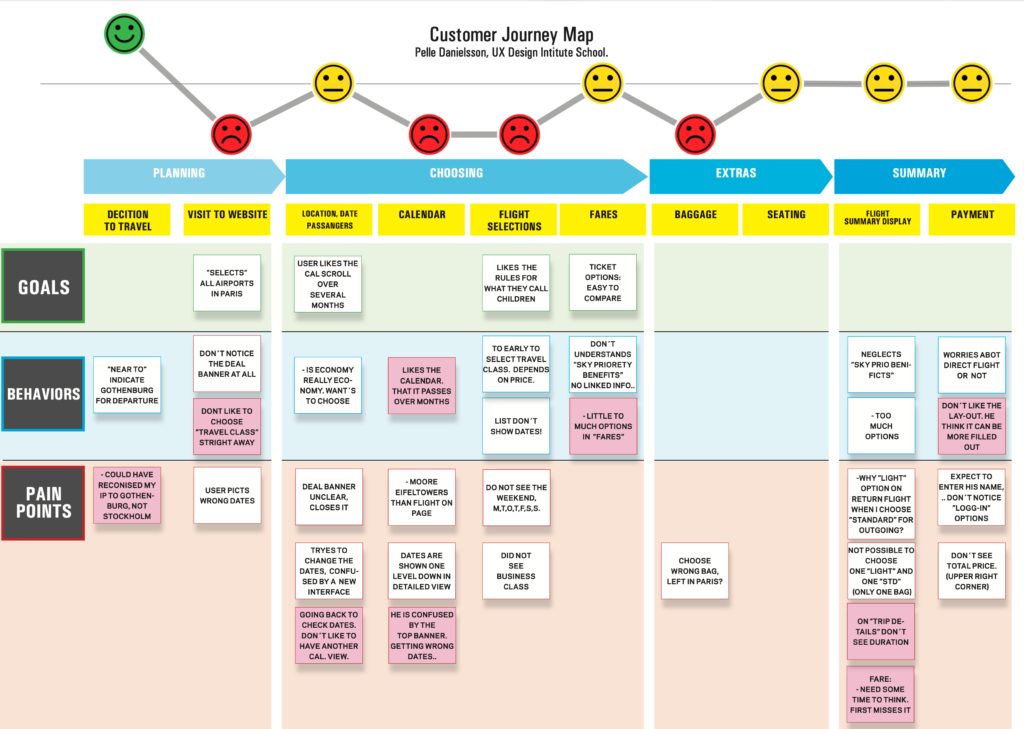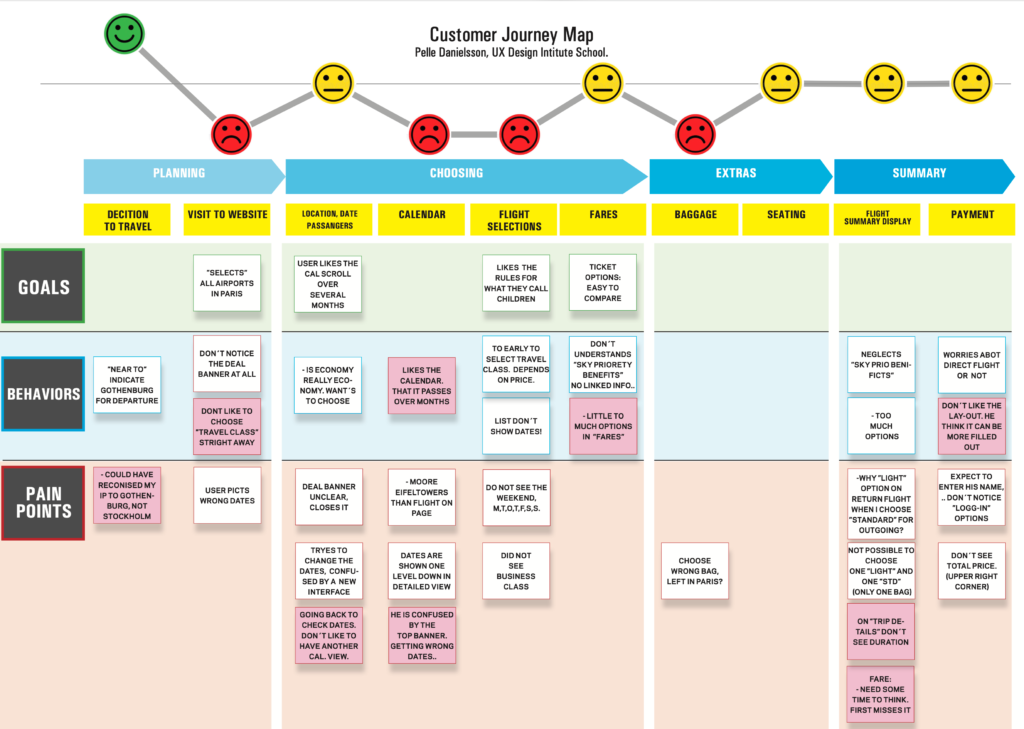 What I learned
It is very important that it takes time when working with the Analysis.

Because it is the basis for the entire Customer Journey Map. If you miss something there, it affects the whole UX Design job. And you do not want that to happen.
---